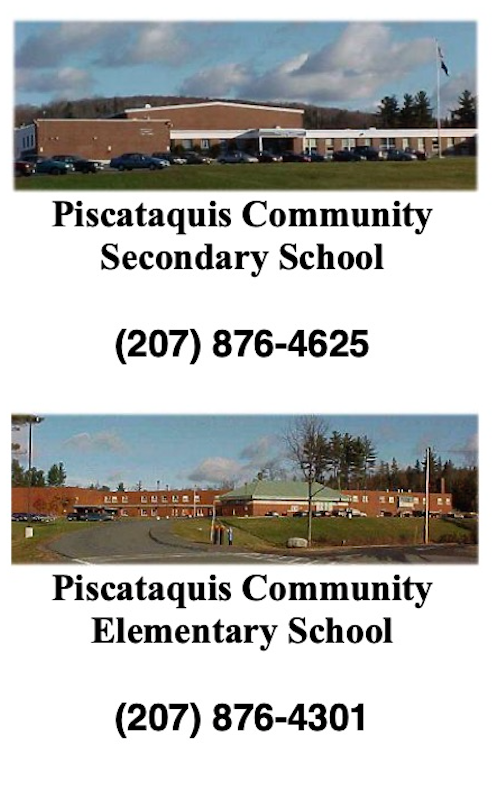 Directions to SAD 4 Campus
Do not enter our address into a GPS because you will find yourself
on a discontinued road in an unorganized territory.
From the South:
North on I-95; take the Newport exit #157. Follow Routes 11 and 7 north to Dexter. In Dexter, go straight through the light in the middle of town. After passing the Shop 'n Save on your right, take a left onto Route 23 NORTH. Rt. 23 will take you through the town of Sangerville and across a bridge to a STOP sign. This intersects with Route 15. Take a left at the stop sign and proceed into Guilford until you come to the intersection of Rt. 150. Take a right (north) onto Rt. 150 (just before the Shell Station). Continue 50 yards and take a right into the MSAD #4 campus. Piscataquis Community High School are in the same building by the soccer field. Piscataquis Elementary & Middle School sits up on the hill to the left. The Central Office is located at 31 High Street, Suite C.
From Bangor:
Take Broadway (Rt. 15) to Dover-Foxcroft (about 35 miles). Continue through Dover-Foxcroft on Rt. 15 north to Guilford. As you enter the town of Guilford, take a right just before the Shell Station on your right (onto Rt. 150). Follow instructions written above.
From the North:
From I-95 South, take Exit 217 (Howland/Lagrange). Turn right onto Rt. 6; follow Rt. 6 to Lagrange. Take a right and follow Rt. 6/16 into Milo. In the town of Milo, take a left and follow Rt. 16 to Dover-Foxcroft. At the Post Office in Dover-Foxcroft (on your right); take a left onto North Street. At the first light take a right onto Rt. 15. This will take you into the town of Guilford. Follow instructions written above.